Surrey's Community Impact
Inspire. Engage. Connect.
One member says it best. "I thought Surrey was a valuable resource before COVID isolation. Now it is critical."
Surrey's hybrid model of services, including center-based, virtual, and home-based services, provides a vital safety net to help older adults age well in place. This approach, along with strong leadership, community partnerships, and the active engagement of a dedicated and growing number of volunteers and donors, will continue to build and expand our Surrey community.
As you read this report, we hope you feel inspired by the many contributions that have enabled us to reach more seniors, in more ways, for greater impact.
Click the image at right to read our stories of impact.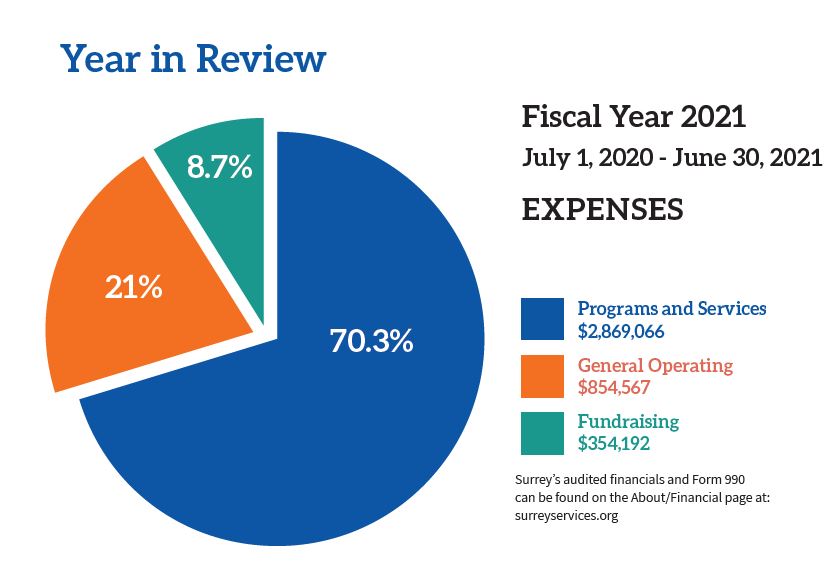 Governed by our Board of Directors, Surrey maintains strong financial health as an organization. The Independent Audit performed by Maillie LLP, demonstrated no issues of noncompliance and shows Surrey's healthy financial position. The 990, required by the IRS, is completed annually.
Surrey is proud to earn a Charity Navigator Four-Star Rating, for seven consecutive years. Surrey also has received the Pennsylvania Association of Nonprofit Organizations' (PANO)  Seal of Excellence and the National Association of Senior Centers (NISC) Accreditation and the Guidestar Platinum Seal of Transparency. These distinctions indicate that we fulfill our mission while adhering to the highest standards of program effectiveness and financial stewardship.